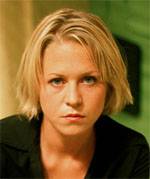 Sentence Three years for fraud: she embezzled £47,000 from the finance company she worked for.
Background High-flying City whiz-kid. Has one sister, Jillian.
Profile Cassie projects the image of a woman who is totally sure of herself. She is confident and always positive no matter what life throws at her therefore, she has been able to quickly setting into prison life and has made friends quickly.
At the time of her arrival, Cassie was having an affair with her former PA and co-defendant, Roisin Connor. Although Cassie is totally at ease with her sexuality, Roisin isn't - as well as being her first gay relationship; it is further complicated by the presence of a husband and children.
Cassie does love Roisin, but she's determined not to show it and unwilling to settle down. In her heart she's convinced that Roisin cares more for her husband and children than she could ever care for her.
Last seen... Heroically rescuing Neil from the fire in the library and getting badly burnt in the process (s4ep16). As a result of their actions, she and Roisin were later pardoned and released.&nbsp