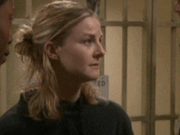 Spike is played by Sarah Hadland
Spike is only in a few episodes, she is the mother of a little boy name Baxter. Buki lester fell in love with little Baxter when she started working with all the babies. Buki always thought that Spike was a bad mother and Buki wanted Baxter. Buki and Crystal gordon both though Spike was on drugs, Spike then admitted that her and Baxter were both suffering form aids and were going to die. Buki steals Baxter which causes a lot of worry for Spike. Spike falls ill and is taken to the hospital wing, Crystal is left looking after Baxter, the following day Buki takes Baxter to the park, that night he dies.
Last seen.... heading back to the hospital wing after Baxters funeral.