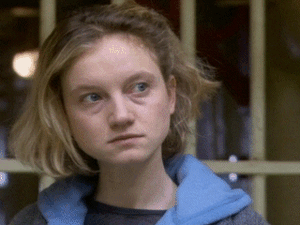 Sentence Ten months for credit card fraud.
Background Her early years were a constant round of foster and care homes. Her ex-boyfriend, Robin Dunstan, is the father of her baby son, Robbie.

Profile Zandra is one of life's victims. She found happiness for the first time when she met her upper-class boyfriend, Robin, and ended up taking the rap for him when he was caught in possession of a stash of stolen credit cards. Far from being grateful, Robin returned to the welcoming arms of his parents and tried to forget that he had ever met her. Even the arrival of their son, Robbie, couldn't melt his heart.
The tragedy in Zandra's life has made it difficult for her to kick her drug habit. She has tried rehab a couple of times but has never quite managed to work out that the first rule of conquering addiction is to do it only for yourself. In prison, Zandra finds the love and friendship she never had on the outside. But it's all too little, too late.
Last seen... Lying dead on the floor of her cell, victim of an incurable brain tumour (s2ep9).&nbsp